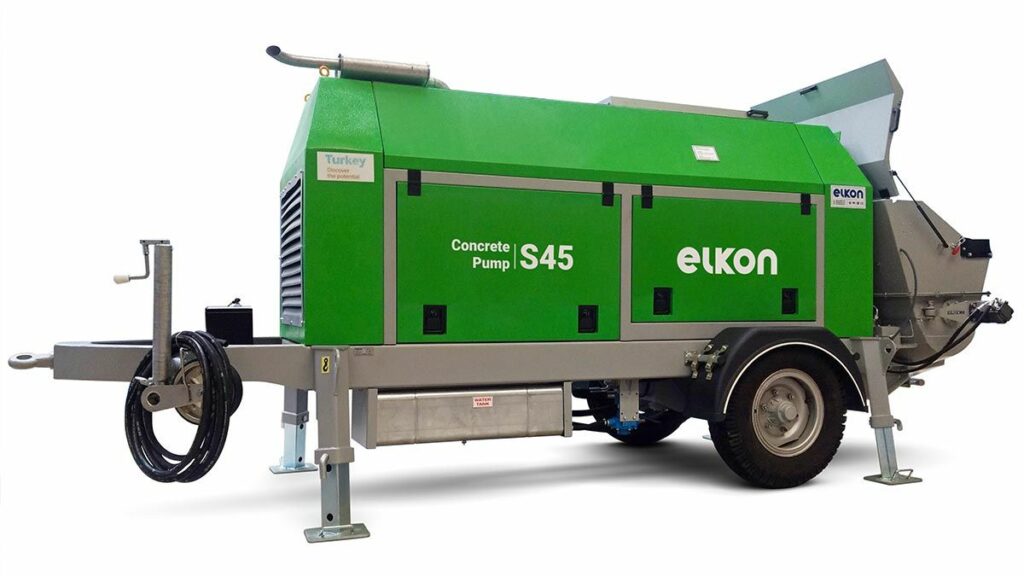 up to 100m vert. or 300m horiz.
With more than 40 years of experience, ELKON, which exports its products to more than 100 countries in 6 continents, offers 2 different capacities for trailer concrete pumps to its customers in addition to the different types of concrete batching plants.
These pumps have been designed according to the most difficult conditions and heavy work. They are high performance pumps with diesel engine and S Valve System. 
Elkon Benefits & Advantages
Both ELKOPOMP S45 & ELKOPOMP S60 can deliver concrete up to 100 meters vertically or 300 meters horizontally.
Both models are equipped with axle and tires. Thus, it can be easily towed and transported to required points. Moreover, the concrete delivery pipes can be easily assembled and become ready to deliver concrete.
The brand of the hydraulic control unit used in ELKON Trailer Type Concrete Pumps is BOSCH-REXROTH (Germany) and the system is an open-circuit hydraulic system.
ELKON Trailer Type Concrete Pumps are equipped with high quality and chrome coated concrete delivery cylinders.
The system can easily regulate itself with power regulation when it delivers the concrete to higher distance by means of hydraulic pump which has variable flow, power regulation and axial piston.
Stainless steel control board is completely protected against environmental conditions and provides longer life time to the system.
ELKON Trailer Type Concrete Pumps are equipped with LINCOLN (Germany) automatic lubrication system which provides automatic lubrication to required points of the system and evidently extends the system spare parts life time. Besides, ELKON Trailer Type Concrete Pumps are equipped with high-pressure water pump to clean itself at the end of delivery process of the concrete.
| | |
| --- | --- |
| Capacity | 45 m3/h |
| Maximum Delivery Distance | 100 m (vertical) 300 m (horizontal) |
| Diameter of Delivery Piston | 180 mm |
| Stroke of Delivery Piston | 1000 mm |
| Diesel Engine Power | 85 kW |
| Concrete Delivery Pressure | 75 bar |
| Maximum Hydraulic Pressure | 320 bar |
| Concrete Valve System | S Valve |
| Oil Tank | 240 l. |
| Fuel Tank | 65 l. |
| Diameter of Concrete Delivery Pipe | 5.5″ |
| Dimensions | 5000 x 1800 x 2200 mm |
| Weight | 5750 kg |
ELKON mechanical concrete distributor is located at the end of the concrete delivery pipe which is ideal for distributing concrete to wide areas. It can distribute concrete to any point within the specified area having 8 meters radius.

We can provide optional configurations to meet your specific concrete needs!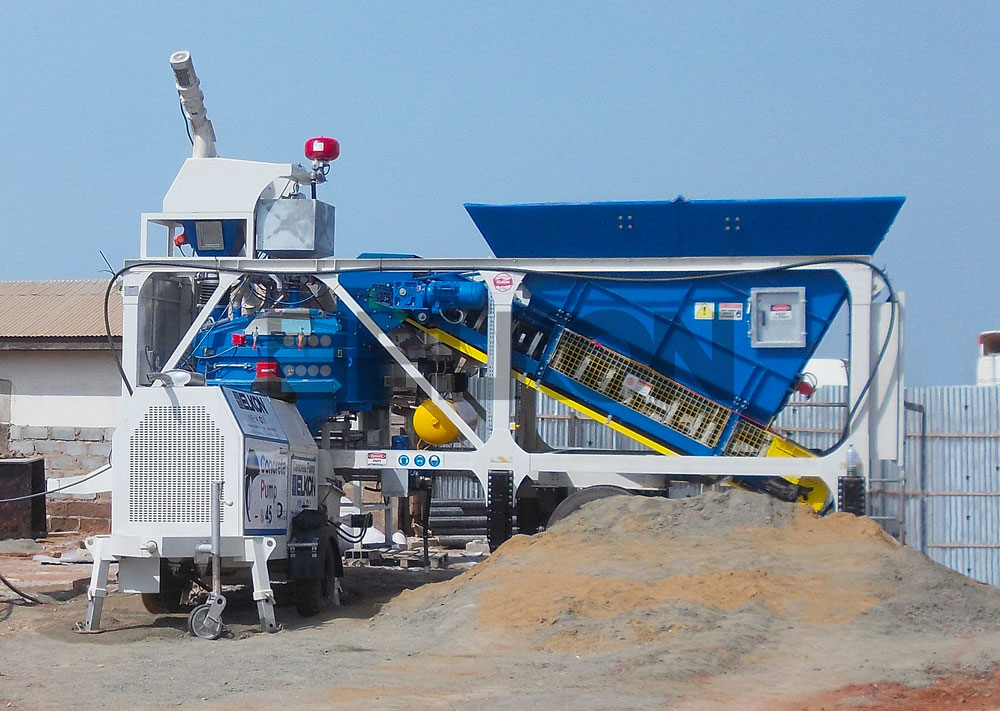 In Ghana, a construction company, which is looking for a moderately small capacity, flexible concrete batching plant
Read More »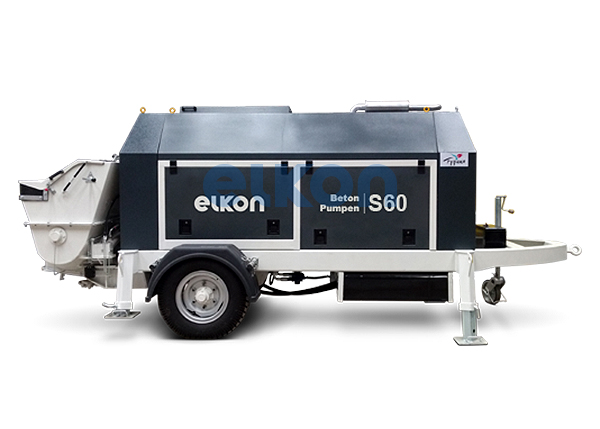 A construction company based in Germany which major focus is on civil engineering construction works recently started
Read More »