Highest Quality Standards
ELKON seeks the highest quality at every stage of the manufacturing process from the design phase to the production. All products have to pass the quality control tests in every stage during the production and after the final phase in detail. In ELKON factories only the highest quality equipment's which passed from the quality control tests are being used and the final product is not shipped without passing all the quality control tests.
ISO 9001: 2008 quality management system which is certified by NSF (USA) and TÜV (Germany) organizations is being applied in ELKON factories.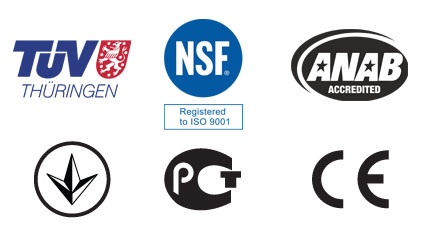 All products dispatched from ELKON factories without any exception are in conformity with all technical, health, environment and safety standards.
In this context, CE, GOST-R and UKRSERPO certificates guarantee these requirements.